Cancun, Mexico is famed for its electrifying nightlife. Guests will have the opportunity to explore a variety of live entertainment and events – from beach bashes to clubs playing up-to-the-minute music!
With popular nightclubs like Coco Bongo Cancun and La Vaquita Cancun, you can dance to your heart's content throughout the night. But if that isn't what you're looking for, then there are plenty of choices available – from beach shacks and dive bars to exquisite restaurants!
Are you ready to discover the top 10 clubs and bars Cancun has to offer? Then let's get started! Here are ten places sure to make your stay unforgettable…
1. Coco Bongo Cancun
Coco Bongo Cancun is one of the most popular Cancun nightlife spots. This vibrant club offers a wide range of entertainment, from live shows to DJs playing all the newest hits. The atmosphere at Coco Bongo is truly unforgettable, with its huge dance floors, strobe lights, and striking decor.
Coco Bongo is a local favorite that everyone should experience, as the venue offers plenty of fun events and activities all year round. In addition to partying through the night with great music, you can also fuel your energy levels throughout with its wide range of deliciously refreshing food and drinks!
2. The City Nightclub
The City Nightclub in Cancun is an iconic spot for both locals and tourists. This popular nightclub offers a variety of events and entertainment throughout the year, ranging from live music performances to DJs playing a mix of Latin, EDM, and Top 40 music.
When you enter The City Nightclub, the energy radiates from its spectacular design, glimmering lights, and thumping sound system. Along with a wide array of food and beverage options – plus plenty of VIP areas! – it's no surprise that this Cancun hotspot has become so popular amongst nightlifers.
3. La Vaquita Cancun
La Vaquita Cancun bar provides a dynamic atmosphere that welcomes both tourists and locals to come together, grab some drinks, eat delectable food, and dance the night away with entertainment from DJs and live performances year-round. In addition to its lively ambiance, La Vaquita also boasts eye-catching decor that enhances your experience of an unforgettable evening out!
The bar offers a one-of-a-kind experience with its energizing music, delectable snacks and drinks plus tons of activities. Its cheerful atmosphere makes it easy to socialize or just relax in the lively ambiance. An unforgettable night awaits you at The Bar!
4. Mandala Club
Another popular nightlife destination in Cancun is the Mandala Club. This adrenaline-fueled paradise showcases a diverse selection of EDM, Latin, and Top 40 music spun by renowned DJs each evening to create an unforgettable experience!
Mandala is a thrilling venue, equipped with an array of gastronomic delights and a thunderous sound system. The chic decor, tantalizing lighting, and booming audio all come together to generate an unforgettable experience that attracts people from the far corners of the globe!
5. Abuela del Mar Beach Club & Bar
Abuela del Mar Beach Club & Bar is a beloved destination in Cancun, attracting both locals and vacationers. If you're looking for an unforgettable experience right on the beachfront, this bar has it all – scrumptious appetizers and meals, tantalizing drinks, and entertainment that's sure to keep you entertained year-round!
This Cancun nightlife club could be the ultimate destination for a luxurious night! With outdoor lounge boasts, comfortable seating and captivating views of the ocean, allowing you to sip on tropical cocktails and listen to live music under the stars. As if that wasn't enough, breathtaking sunsets are sure to make it an evening you won't soon forget.
6. Señor Frog's Cancun
Sixth on our list of the Cancun nightlife gems is Señor Frog's Cancun, a bar that is the perfect spot for a fun-filled night out. This vibrant bar and restaurant offer guests an array of food, beverages, and entertainment options. Apart from the live music the club has also hilarious dancers and performers.
Take in the Caribbean's mesmerizing sights from Señor Frogs' outdoor seating area while indulging in delightful drinks and snacks. To make your evening truly remarkable, join one of their thrilling karaoke nights or pool parties for an experience you won't soon forget!
7. Fat Tuesday's Bar and Grill
When searching for a delicious, family-friendly spot to eat in Cancun, visit Fat Tuesday's Bar and Grill. This establishment offers both classic American comfort food as well as exquisite Caribbean dishes – perfect whether you're looking for something quick or having an extended meal with loved ones.
And not just that — their open-air terrace offers unbeatable views of the ocean, giving guests added peace and tranquility while they dine. Add in an extensive drinks list featuring craft beers, cocktails, and more, and Fat Tuesday's is the ideal destination for your next night out in Cancun.
8. Dady Rock Night Club & Beach Club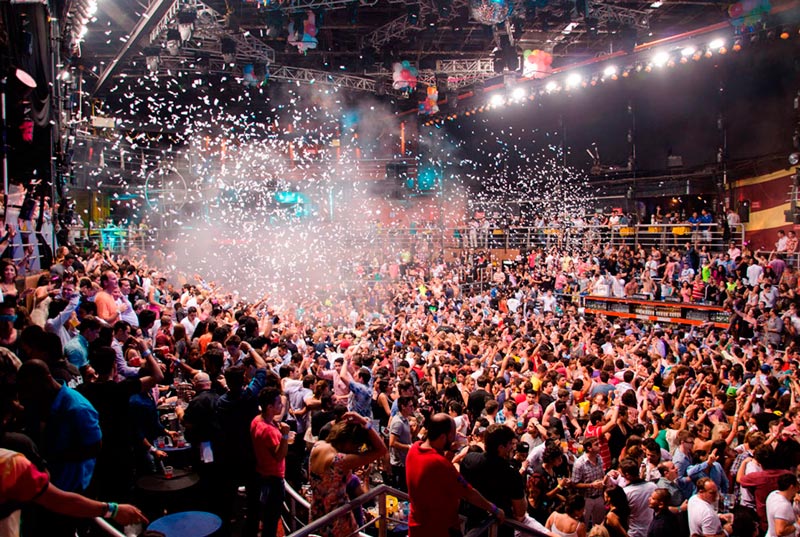 Elevate your nightlife experience in Cancun with a visit to the celebrated Dady Rock Night Club & Beach Club. Indulge in its raucous atmosphere while lounging around its two luxurious swimming pools, surrounded by energizing beach umbrellas and plush sun beds that will help you unwind. Whether it's day or night, this lively hotspot is sure to offer an unforgettable time for anyone looking for wild fun!
With multiple bars and world-class DJs, Dady Rock's is sure to keep the party going all night long. And if you're looking for something different, they also offer various themed events such as foam parties and bikini contests that guarantee an unforgettable experience.
9. Palazzo Disco Pub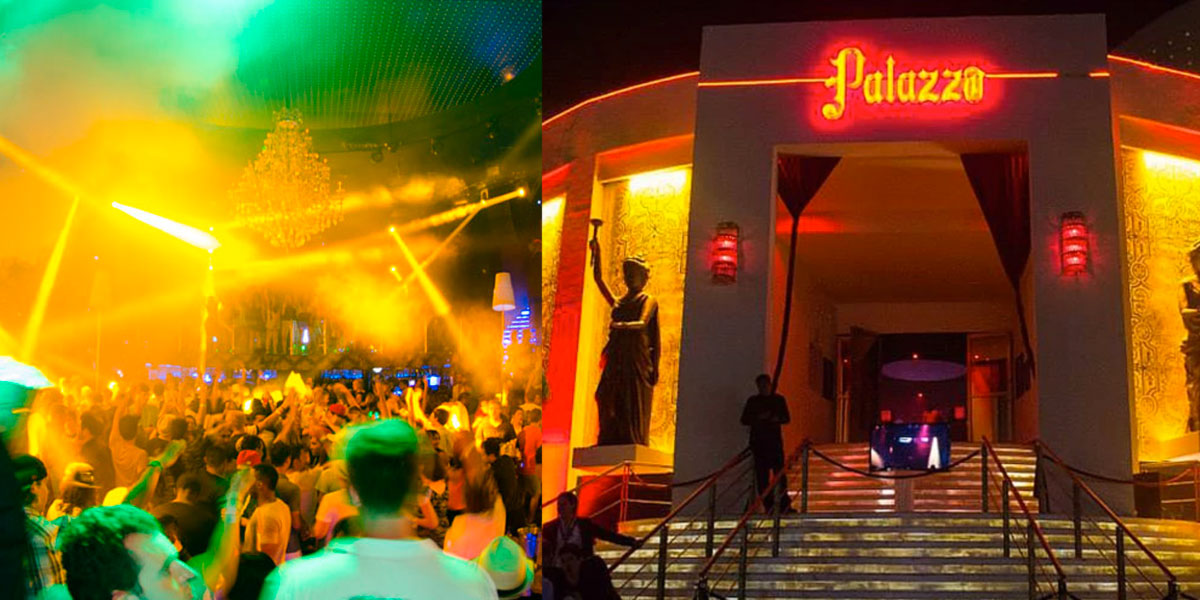 Last but not least, The Palazzo Disco. When it comes to the Cancun nightlife, this place is the perfect spot to enjoy a night of excessive and wild partying. Offering something for every type of music lover, this modern club has multiple dance floors as well as a live music stage that regularly features international and popular DJs.
Step into an extraordinary night in Cancun at the Palazzo Disco Pub. Feel welcomed with luxurious decor and exquisite bars providing premium beverages and specialty cocktails. Dance away surrounded by positive energy, creating a night you'll never forget!