1. Climb Kilimanjaro in Tanzania
Every adventurer's bucket list deserves to have an ascent of Kilimanjaro in Tanzania at the very top.
At 19,341 feet, Africa's highest mountain provides a challenge for adventurers and those looking to explore something new.
To conquer this mountain, you will need stamina and fortitude – both mental and physical. Therefore, it is essential to allow yourself at least 2-6 days for the ascent.
A great way to truly appreciate the experience is to take an adventure safari in Tanzania before or after your hike.
Indulge in the breathtaking beauty of Tanzania's majestic wildlife while also exploring the vibrant culture and rich history of this stunning African nation!
2. Safari in Kenya's Masai Mara National Reserve
Kenya's Masai Mara National Reserve is one of the best safari spots in the world; its stunning beauty and exotic wildlife make it ideal for adventurous vacationers.
With bundles of wildebeest, zebras, elephants, rhinos, and more passing through the reserve every year during their annual Great Migration, there's something for everyone to take in.
The reserve itself covers a staggering 1,510 km² of grassland plains, woodlands, and marshy alluvial valleys that guarantee wildlife sightings throughout the year.
Visitors can go on 4×4 game drives to get up close and personal with animals as they roam among the scenery or spend a night camping to immerse themselves in nature's wonders.
Regardless of what travelers decide to do, an adventure through Kenya's illustrious Masai Mara National Reserve should be on their Africa bucket list!
3. Visit the ancient pyramids of Egypt
Visiting the ancient pyramids of Egypt is an unforgettable experience that should be included on anyone's Africa bucket list.
From the famous Great Pyramid of Giza to the less crowded Step Pyramid of Djoser, all are a testament to the innovative engineering, design, and labor put into their construction thousands of years ago.
Sightseeing around these majestic structures, admiring their astoundingly symmetrical facade, and learning about their heritage as one of the world's oldest wonders will leave a lasting impression.
Moreover, there are other amazing attractions nearby such as temples, monuments, and mummies – perfect for those looking for an obsession-worthy adventure.
Touring through this impressive history of Ancient Egypt should not be missed.
4. Trek through Morocco's Sahara Desert
Embark on the ultimate Moroccan adventure and experience the blazing beauty of the Sahara desert.
As you trek through its majestic landscape, take in the captivating views of towering dunes, the rich aroma of fragrant spices, and the sound of drums emanating from nearby villages.
Witness exotic wildlife such as antelopes, jackals, and gazelles that make their homes in this desert terrain.
Follow ancient caravan routes used by traders to explore distant lands that connect Morocco's north with its ever-inspiring culture-filled cities.
With every step you take, you will discover a magical charm that lies within this majestic region that has been connecting past and present for centuries.
5. Go on a wildlife safari in Botswana
Visiting Botswana's spectacular national parks and game reserves is an experience like no other.
Journey across the Okavango Delta, taking a canoe along the winding waterways to observe herds of elephants, buffalo, and hippos.
Explore Moremi Game Reserve and Chobe National Park for a chance at spotting rare African species like leopards, cheetahs, hyenas, wild dogs, and more.
You can observe these magnificent creatures in their natural habitats from open-viewing vehicles or enjoy hot air balloon rides with stunning aerial views of the amazing landscape.
Whether you're looking for picturesque landscapes, incredible wildlife sightings, or simply time away from your everyday routine; a safari in Botswana has something to delight every visitor.
6. Experience a Joy Ride with Cheetahs in Namibia
Have you ever imagined soaring through the air, harnessed to a couple of cheetahs? That amazing adventure is now possible in Namibia!
With wildlife nature tours, guests can experience the majestic African savannah with these magnificent creatures.
By exploring and getting to know the animals up close, tourists will gain incredible insight into understanding their behaviors as well as experiencing exceptional thrills.
The joyride with cheetahs allows tourists to feel like they are a part of the African wilds, running alongside their four-legged friends without interference or harming their habitats – an experience that cannot be achieved anywhere else in the world!
7. Explore Morocco's bustling markets and colorful medinas.
Morocco's vibrant culture is on full display in the lively markets and medinas that dot the landscape.
A visit to the country can be incomplete without exploring these remarkable spaces where locals shop, trade, and socialize.
Markets are filled with exotic spices, colorful fabrics, handmade crafts, and other items that locals need for daily life in Morocco.
Venturing through the maze of narrow alleys in a medina gives visitors an insight into traditional Moroccan culture – from artisans making handicrafts to food vendors serving local specialties.
Shopping there also offers unique opportunities to barter for goods as well as experience immersive local hospitality.
With their charm and energy, visiting Morocco's markets and medinas are sure to be a highlight of any trip!
8. Enjoy South Africa's beaches, mountain peaks, and wine country.
South Africa provides unforgettable vacation opportunities to travelers looking for sun-kissed beaches, spectacular mountain peaks, and handcrafted wines for every palate.
From the rocky seascapes of Cape Town to the golden sand of Durban, swimmers can take their pick of South Africa's stunning coastlines.
Hikers will love to explore the breathtaking Drakensberg mountain range with the chance to go rock climbing or mountain biking.
And last, but not least, wine aficionados must make sure to pay a visit to Boberg Wine Estates in Stellenbosch valley.
From crisp sauvignon blancs to flavorful Shirazes and all-time favorite pinotage red varieties–crafted only from locally grown grapes–it offers an unforgettable tasting experience that is perfect for any wine lover.
9. Hike the Table Mountain circuit in Capetown, South Africa.
For a once-in-a-lifetime hiking experience, make sure to add the Table Mountain circuit in Capetown to your Africa bucket list.
This circular route is an awe-inspiring way to take in the legendary beauty of the area – from the peak of Lion's Head mountain down to Hout Bay.
Along the way, expect dramatic locales rich in vegetation and panoramic views that you won't soon forget.
But beware: due to steep elevation changes, this is an intermediate/advanced level trail not recommended for beginners.
To fully appreciate this special journey, make sure you are prepared with good sneakers and a healthy dose of enthusiasm!
10. Ride a camel around Timbuktu, Mali.
Exploring Mali on the back of a camel is an adventure like no other!
Travelers to Timbuktu will love seeing their Maghreb surrounds from atop their majestic, furry friends.
Take in all the sights and sounds down cobblestone alleyways with the call to prayer echoing through the streets and streets filled with vibrant traditional markets.
The hustle and bustle are punctuated by some free time out on the vast desert plains.
What better way to experience the culture of this unique region than while riding a camel around Timbuktu?
11. Tour Ethiopia's churches and monasteries.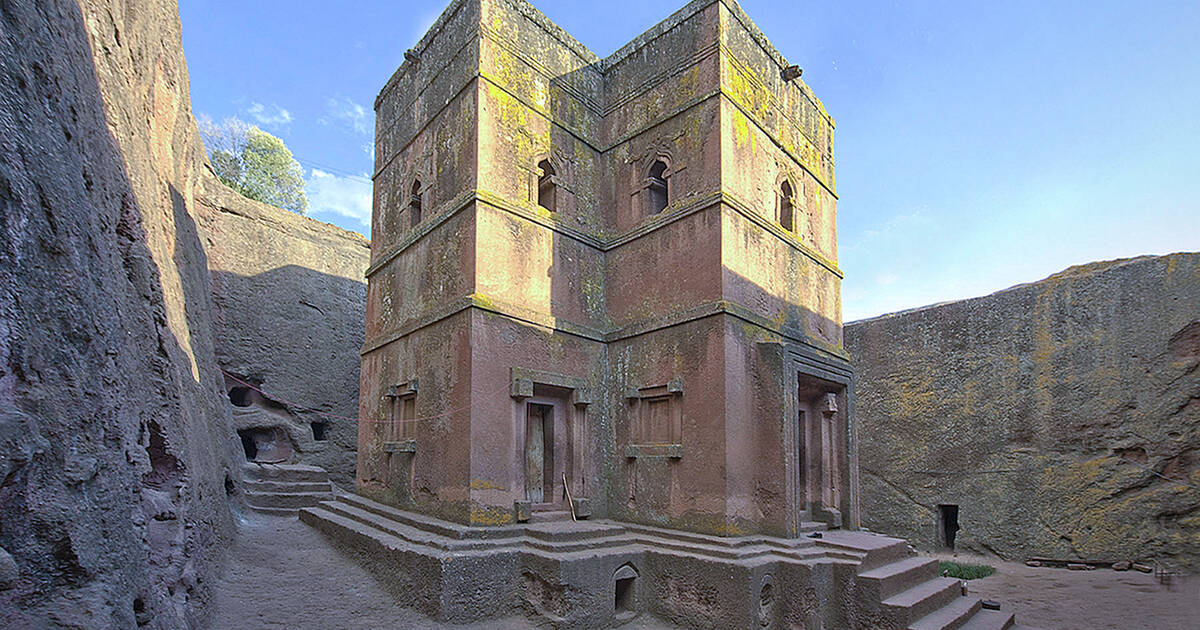 For a truly unique and unforgettable experience, visit Ethiopia's ancient churches and monasteries.
Many of the country's architectural and spiritual treasures date back to the 4th century and are among some of the oldest structures in Africa.
Discover the remarkable history of this diverse culture by immersing yourself in these sacred sites and stories.
During your visit, you may even have the chance to connect with local priests and nuns who can shed light on their rich religious heritage.
12. Go bungee jumping off Victoria Falls Bridge between Zambia and Zimbabwe.
If you're looking for a thrill like nothing else, why not try bungee jumping off the Victoria Falls Bridge between Zambia and Zimbabwe?
Standing at 167 meters high, the bridge connects two of Africa's most spectacular countries.
You can choose to make your jump solo or in tandem with a friend.
Head to Livingstone, Zambia, and gaze upon the 'smoke that thunders' – this incredible sight is sure to take your breath away, particularly before you take the plunge!
The awe-inspiring thundering of Victoria Falls mixed with the adrenaline rush you get from your bungee experience will create a memory of a lifetime.
13. Take an overland journey from Cairo to Cape Town to experience different cultures, landscapes, and climates.
When embarking on an overland journey of a lifetime, few journeys offer the cultural, climate, and landscape diversity such as Cairo to Cape Town.
The journey will open your eyes to thousands of years of culture while you witness remarkable local customs and traditions along the way.
Vast deserts yield to green savannahs, unlike any other place in the world.
Venturing by bus, train, and 4×4 you will visit multiple countries up the east coast of Africa where travelers can experience beaches and bustling cityscapes alike.
Adventure awaits; whether it is a wildlife safari tour through Selous National Park or wildlife watching off the coast of Mozambique – no wonder this route has become one of the leading routes for budget travelers around the globe!